Welcome To Pirate's Life Roblox!!
Edit
Pirate's Life is a roblox game made by Kafitas4 : ☀https://www.roblox.com/games/341209206/Pirates-Life-BOSS-BATTLES-V1-2
If you are already playing the game then JOIN THE GROUP!! :☀https://www.roblox.com/My/Groups.aspx?gid=2778412
Please enjoy the game !!
If your an admin or wish to become one read the rules below-
Admins are not allowed to use explorer
Admins are not allowed to use Gear from Roblox
They are also not allowed to Cheat in tourneys if they do its a result of 20 hour ban
IF AN ADMIN IS CAUGHT ABUSING WITH ADMIN COMMANDS OR WITH THEIR CURSE/MAGIC AND SPAWN KILLING INNOCENT GUEST/PLAYERS REPORT THEM TO ME ON ROBLOX - THEY WILL BE PUNISHED WITH A 10 DAY BAN.
The Story depends on the island on spawn.The island will be your hometown- pss you wont keep spawning on it- the hometown you come from is the first island you appear upon joining.
- Lone Island-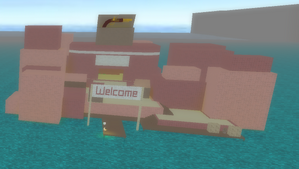 Lone island is a small little island where there is only coconut to survive. after getting dropped there and brainwashed by the Navy you meet another person Elly. he meets you and gives you a boat for free- he tells you he is an old shipwright from Analea The Red Island - After you escape there Elly will be at Lone Island or Analea- People born at Lone Island are bound to be powerful- while people who were first born at Analea They are said to be Nobels and be rich but not powerful.
Analea------------->
Photos and videos are a great way to add visuals to your wiki. Find videos about your topic by exploring Fandom's Video Library.
Community content is available under
CC-BY-SA
unless otherwise noted.